What is it?
An annual conference devoted to housing maintenance and run by maintenance professionals. It covers strategic issues and provides a focus for networking and promoting best practice. The next conference will be held on 26-27 January 2016. More...
Quotes
"I thought that the Plenary Sessions, and the Workshops that I attended, were excellent. Overall I think that this year's conference was the best that I have attended."

Neville Tomblin, Technical Services Manager
Southern Housing Group
"Thanks for putting on a great awards dinner. We really did have a nice time."

Martin Craven, Specialist and Planned Services Manager
Phoenix Community Housing
"I thoroughly enjoyed the whole event this year although it was a shame about the weather. The awards dinner was a bit of a 'roller coaster' with the disappointment at not winning 'Best client' and then the high of winning 'Most outstanding project'."

Neville Tomblin, Technical Services Manager
Southern Housing Group
"We are delighted to have made the shortlist for the Best DLO award. All of the team has worked tremendously hard to ensure that our service program is 100% compliant and meets industry standards. The NHMF award is a great endorsement of best practice and helps to set the standards for repairs and maintenance in social housing."

Justin McCarthy, Head of Maintenance
Viridian Housing Association
NHMF Maintenance Conference and Exhibition
Tuesday 20 and Wednesday 21 January 2015
Holiday Inn, Stratford Upon Avon, CV37 6YR
The NHMF thanks you all for making the NHMF Maintenance Conference 2015 such a great success.
What is the conference all about?
Hide
Delegates
What can you expect as a delegate at the conference?
Hide
Timetable
The conference included plenary and workshop sessions led by speakers selected for their expertise in a particular field, and who come from a range of backgrounds which include practitioners, academics, consultants and relevant professions.
The conference was focused on the following four key themes:
Compliance
Customer service
Value for money
Energy efficiency
Compliance - health and safety
What are landlords legally required to do? What should they do to meet good practice standards? What more could they do to reduce expenditure but remain totally compliant? With an ever growing list of areas of compliance falling under its remit, the NHMF committee has this as a top priority area for asset managers.
Customer service - repairs delivery
Speakers will consider what customers really value in a repairs service delivery. To what extent does a service need to be tailored to the needs of individuals and different tenures? What lessons can be learnt from examples in our sector, other industries and countries?
Value for money - procurement and innovation
This strand will explore the extent to which choosing the right procurement route for your organisation might deliver more service for less money. Are there new materials and innovative approaches that can reduce the cost of a repair service? Can investment in development and asset management be targeted to reduce the need for repairs?
Energy efficiency - fuel poverty
Speakers will stimulate discussion of how best to evaluate the choices available to alleviate fuel poverty, to improve the energy efficiency of properties and to source funding to make such improvements.
Click on sessions to view available downloads
Sponsors and Exhibitors
Why should you exhibit at the conference?
Hide
The NHMF thanks the 2015 conference sponsors and exhibitors
There are exhibitor and sponsorship opportunities available for 2016. For more information about these, please contact M3 on 020 8274 4000.
Conference Catalogue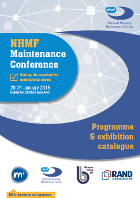 Download
Previous conferences