What is it?
An annual conference devoted to housing maintenance and run by maintenance professionals. It covers strategic issues and provides a focus for networking and promoting best practice. The next conference will be held on 24-25 January 2017. More...
Quotes
"An excellent conference promoting innovation and best practice within the social housing maintenance sector, undoubtedly the best maintenance conference within the UK. The work of the NHMF and its committee together with support from M3 Housing must be highly commended."

– Steve Downing, Director and Quantity Surveyor
"The best and most worthwhile event to meet up with the right contacts for us to build new relationships and maintain existing ones."
– Nigel Chapman, Business Development Manager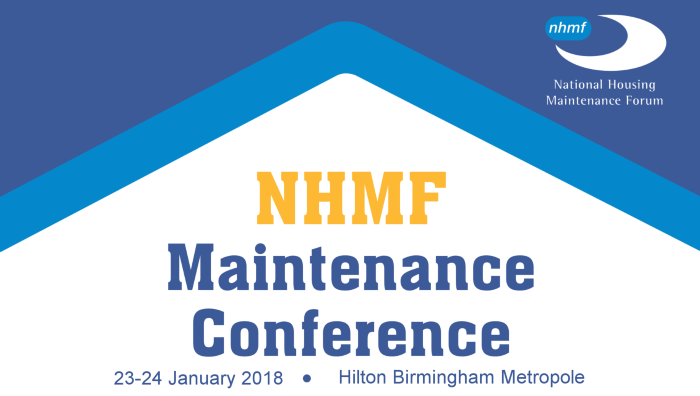 View images from this year's conference
The conference focused on the following five key themes:
Compliance — getting the balance right for risk, health & safety
Asset management — maintaining the right portfolio
Procurement and contract management — paying the right price
Energy efficiency improvements — making the right choices
Repairs service delivery — setting the right targets
The conference included plenary and workshop sessions led by speakers selected for their expertise in a particular field, from a range of backgrounds which included practitioners, academics, consultants and those from relevant professions.
If you are interested in exhibiting or sponsoring next year, please call 020 8274 4000
The NHMF thanks the 2016 conference sponsors and exhibitors
There are sponsorship opportunities available for 2017. For more information about these, please contact M3 on 020 8274 4000.