Bulletin | Service Provider Forum
In it together
With market and supply chain challenges, the Better Social Housing Review, new Tenant Satisfaction Measures and Consumer Standards on the programme, September's NHMF Service Provider Forum meeting was laser-focused on the topics that are top of our sector's agenda. As is always the case with the Forum, in addition to presenting and debating the huge challenges which service providers are facing on many fronts, innovative solutions and collaborative ideas were also key takeaways.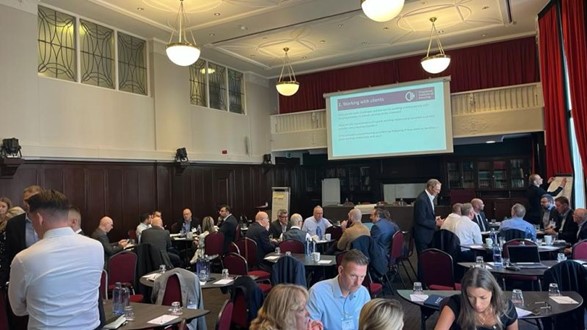 image source : Our own photo
Challenging times for Service Providers
Following the welcome by Chair, Mike Turner (Non-Executive Director at Ian Williams Ltd), Tyron Stalberg from Vinci spoke passionately about the challenges facing service providers and offered proactive advice on how to confront them head on. Tyron posed the question that everyone in the room was asking: how are we going to manage the huge challenges which are already here, as well as the ones coming over the hill? He spoke about a sector still suffering from the fall-out of the Pandemic, Brexit, the war in Ukraine and the cost-of-living crisis, with the added burdens of inflation and recession. Delegates also debated the very real problems of fixed price contracts, PPP structures, tender validity periods and the previous lack of fair and equal provider/client contracts. Tyron made the strong point that as a sector we need to break the cycle, keep healthy cash balances, pay and be paid promptly, focus on profit not turnover, and control the pace of growth. Not every customer is the right customer and Tyron emphasised that if you can't resource a project, don't do it.
Better Social Housing Review
Following an NHMF Frameworx update from David Miller who emphasised the strong growth that the framework is enjoying, Dr Matthew Scott hosted an interactive group breakout session on the CIH Action Plan 3, specifically on how 'Housing Associations should partner with tenants, contractors and frontline staff to develop and apply new standards to define what an excellent maintenance and repairs process looks like.' Matthew expressed the Better Social Housing Review group's desire to work closely with Forum members to input into the formation of a new Best Practice Group. If you'd like to contribute to this group, please contact Ben Virgo | LinkedIn
Tenants at the heart
These workshop style groups with the focus on client, provider and resident experience dovetailed neatly with the next presenter, Sarah Patrice, Partner in Anthony Collins Governance, Funding and Corporate Team who provided some recent updates on the new Tenant Satisfaction and Consumer Standards regulations. 
Sarah described the detail of the Tenant Satisfaction and new Consumer Standard regulations, based on 22 measures which will include 12 resident perception surveys, a Social Housing Quality Resident Panel and 10 standards legally required to be measured by a registered housing provider's own management information. From 1 April 2024, the revised Consumer Standards and Code of Practice will apply to all registered providers. That's not a long time off. The Housing Ombudsman and Regulator have made clear that 'Ofsted Style' enforcement action will be ready to go for anyone who fails to comply with this Golden Thread, giving an even stronger voice to tenants.  The new powers also mean there will be no cap on the level of fines if RPs – and by association – service providers and contractors cannot show how they're responding to and resolving customer complaints.
As with many of the cutting-edge presentations we bring to members in our meetings, there were sometimes more questions than answers. But this is in the spirit of collaboration and working together, pillars on which the Forum has been founded and we look forward to continuing this dialogue, engagement and learning with members over coming months.
Thank you to all our speakers and delegates. We also look forward to seeing as many members as possible at the NHMF Conference in Stratford on 23 24 January. There is an Early Bird booking discount in place until the 13th October. NHMF: NHMF Maintenance Conference and Exhibition
A special thank you
Although our Chair Mike Turner won't be handing over the Chair's reins to Melissa Woodall until the NHMF January Conference, this was Mike's last official Service Provider Forum meeting. We'd like to say a huge thank you for the tireless work Mike has done during his tenure, reinvigorating and growing the Forum, futureproofing the group to continue to be fit for purpose for our members.
Thank you Mike.