Bulletin | Regulation and safety
Building Safety Act 2022 – Implications for Maintenance Contracts
The Building Safety Act 2022 ("the Act") became law on 28 April 2022. So what are the implications for maintenance contracts in relation to the "higher risk buildings" ("HRBs") that it regulates? HRBs are defined in section 65 (in England, but not Wales) as buildings over 18m or of 7 storeys or more that contain two or more separate dwellings.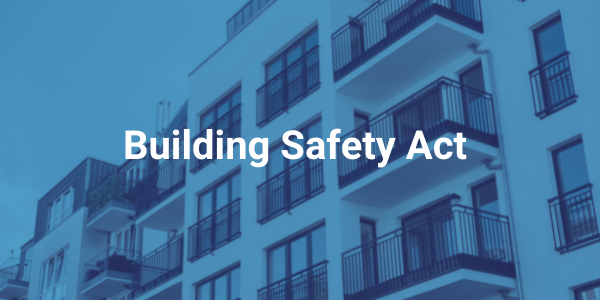 What does the Building Safety Act 2022 say?
The Act is still in outline as regards required approach to maintenance in the "occupation stage" (the stage once a HRB has been constructed and is in occupation). By this stage a Safety Case will need to have been prepared and a Golden Thread of information compiled to sit alongside it. The specific strands of this Golden Thread are left to be set out in delegated legislation. This is still to be published, although the Government has issued factsheets on both the Golden Thread and the Safety Case.
At the moment all that we have that deals specifically with maintenance is a government factsheet on "Refurbishments", at https://www.gov.uk/government/publications/building-safety-bill-factsheets/refurbishments-factsheet
Requirement to undertake maintenance
The starting point for any maintenance is the new duty on the Accountable Person in section 84(1):
"to take all reasonable steps for
a)    preventing a building safety risk materialising, as regards the part of the building for which they are responsible; and/or
b)    reducing the severity of any incident resulting from such a risk materialising."
Under section 84(4) these steps must be taken "promptly". This could impact on the extent to which maintenance is required and the timescales within which it needs to be undertaken.
Regulation of maintenance
The approach that is being taken to regulating maintenance work to HRBs is to introduce new Building Regulations. These will make it a criminal offence to carry out prescribed work without approval. There will be different Building Regulations requirements for different types of work.
Straightforward works
More straightforward work will be regulated by a "competent person" scheme. There will be no requirement for approval in advance but a notice needs to be given to the Building Safety Regulator ("the Regulator") within 30 days of completing these straightforward works.
It is not known at this stage whether there will be a "materiality threshold" for these works, meaning that minor repairs (such as changing a leaking tap washer) may not need to be notified at all. Unless this is included housing providers may find they have to notify the Regulator for every responsive repair call-out to a HRB.
In maintenance contracts for these kinds of works, we would recommend including a warranty from the contractor that they are and continue to be a "competent person" (in terms of holding the required competency, including any accreditation or registration that is required). If there is a requirement in the new Building Regulations for the works also to be carried out only by a "competent person" (as applies with Gas Safe) there should also be a contractual obligation on the Contractor to ensure that the Works are carried out only by "competent persons".
One of the issues with these smaller types of works is that problems with them may not be picked up until after they have been completed and the Contractor has left the site. It is not yet known how long the Regulator will have to challenge any works carried out following the notification to them within 30 days after the works have been completed. Maintenance contracts should therefore provide for the Contractor to return to correct any works identified by the Regulator as defective, irrespective of whether this is within the defects liability period. Access arrangements should also be dealt with, given that a Resident may need to grant access for the corrective works sometime after the initial works.
Major works
For more major works, an application will need to be made for Building Regulations approval from the Regulator before works start. The purpose of the application is to enable the Regulator to assess whether the proposals comply with the Building Regulations and assure building safety.
There will then be inspections at key stages of the works, with an obligation to obtain approval from the Regulator for "major changes" (which are still to be defined) to the original proposals. The Regulator will then undertake a final check on compliance and issue a "compliance certificate".
Contracts will need to allocate the responsibility for obtaining Building Regulations approval to the Client or Contractor, both in relation to the initial application and in relation to any "major changes". Similarly the responsibility for obtaining the completion certificate should be allocated (logically this would be to the Contractor).
The contract should also allocate the risk of delays by the Regulator. This could be entirely a Contractor risk or could lead to the Contractor being given either an extension of time (only) or both time and money.
Wales
The Building Safety Act 2022 does apply in Wales, but certain Parts (eg Parts 2 & 4) apply only in England.
Welsh Ministers are given authority to establish and designate regulatory bodies and even to define what is a HRB. The Senedd has indicated that the design of the building regulations changes will be kept as close as possible to that in England so as to promote consistency.
References
All the Government Factsheets referred to in this Article are available at https://www.gov.uk/government/publications/building-safety-bill-factsheets
The full text of the Building Safety Act 2022 is available at https://www.legislation.gov.uk/ukpga/2022/30/section/1/enacted
About the Author
Andrew Millross is a Partner for Anthony Collins Solicitors LLP