Bulletin | Contractor Forum
Contractor Forum round-up
Latest NHMF Contractor Forum meeting demonstrates the value of collaborative learning and gives a glimpse into what is being hailed as the future of frameworks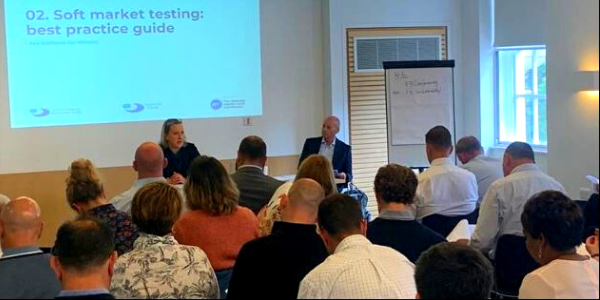 With over 40 delegates, last week's NHMF Contractor Forum meeting tackled some really challenging themes, including the thorny issues of TUPE and the power of Soft Market Testing. Compliance updates and the M3NHF Schedule of Rates consultation ahead of the forthcoming Version 8 update, were also put under the spotlight. And concluding the meeting, Chair of the Forum, Mike Turner, Executive Director of Ian Williams, and David Miller of M3/Rand, gave delegates a glimpse into the future of frameworks with the soft launch of Frameworx, an initiative that is setting out to disrupt the status quo of procurement.
Soft Market Testing
Anyone involved in housing, both client and contractor side, are familiar with Soft Market Testing as a means of determining the capacity of a market to supply a service and gauging the level of interest in future procurement. However, as a collective, the Contractor Forum wanted to dig beneath the surface to understand the extent to which and how effectively, Soft Market Testing is being used in the social housing sector, and as a result, set out a best practice approach for success. In order to investigate the topic and deliver this report, which took 18 months of research, a sub-group was established. Amy Boothman, Development Manager at Ian Williams and member of the sub-group presented the enlightening results during the meeting – for example, 100% of contractors questioned had engaged with Soft Market Testing, compared with just 69% of social housing landlords.
The full Soft Market Testing Best Practice Guide and Toolkit is being published and shared with the wider market, but if in the meantime, you'd like to see more detail and get your hands on a copy of the guide, you can download it here.
Supply Chain Challenges
It was no surprise that supply chain challenges were high on the agenda, with the key take-away message that the supply chain is not growing quickly or sustainably enough. The challenges of Brexit, new immigration bills, tariffs, the Building Safety regulations, containers stuck in the Suez Canal, unpredictable weather, erratic tendering patterns, are all still having significant impact on our sector in terms of materials procurement. To really bring this home, members learned that at the start of the Pandemic, during the home improvement boom, the UK used a whole year's supply of fencing and paint in just one month. Our sector is still playing catch up. 

Thorny TUPE issues in procurement
Nicola Ihnatowicz and Rebecca Rees from Trowers and Hamlins gave a fascinating and knowledgeable presentation about the minefield that is TUPE. It's an area that really needs transparency and planning on both the contractor and client side, with so many grey areas that can be open to interpretation. The high levels of questions from delegates really demonstrated the concern about potential pitfalls when it comes to TUPE.

The launch of Frameworx
Last, but not least on the agenda, Mike Turner and David Miller revealed a brand new initiative that looks set to take the procurement market by storm. Launched in association with the NHMF, the not-for-profit organisation, Frameworx, is offering something new when it comes to procurement. As its tagline Connect with the Best suggests, working with Frameworx gives social housing partners access to the best choice, experience, value for money and innovation from a range of pre-qualified contractors, consultants, vehicle provision & building material suppliers. The organisation is proud to bring a new ethos and approach that it hopes will shake up the market, especially when it comes to social value, whilst all backed with the credibility and expertise of the NHMF brand and the M3NHF Schedule of Rates. Offering a highly competitive 1.5% fee, all surpluses will be invested back into social value, training, benchmarking and contract support.

More information on Frameworx will follow shortly and leaders will be on hand on the M3 Stand at Housing 2022 in Manchester (28 – 30 June) at 11am daily to answer your questions. If you're interested in pre-registering for more information, please email Imogen.

If you'd like to join future meetings as a guest, you're more than welcome to try us out. Contact imogen.bowen@m3h.co.uk to find out more on this.
Produced by