DINLab case study
This best practice case study demonstrates how technology (proptech) and innovation can improve resident safety, make asset management more efficient, improve resident safety and health, as well as reduce operating costs.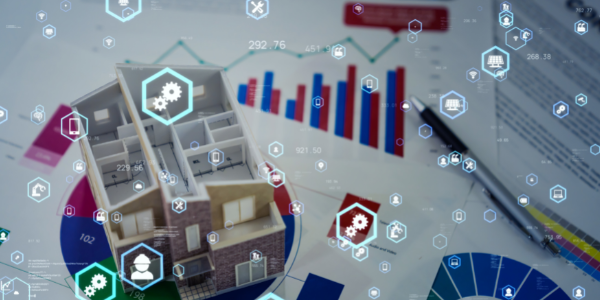 What is Proptech?
Proptech is any technology that solves any problems related to managing and maintaining property, such as knowing more about its current state, predicting what will happen to it and taking early action to prevent component failure. Proptech can be used to automate delivery systems, processes, monitor progress and improve quality. The potential of technology to help in providing high quality, affordable homes that ensure residents are safe and healthy is endless.
What is a DINLab?
A rapid prototype platform that enables a number of housing organisations to collaborate to test and pilot innovative technology quickly (12 weeks total) and economically by sharing costs, resources and user feedback. These lessons can then be shared within the sector.
What pilots have happened?
In 2021, two pilots were started: Plexus Innovation (Legionella risk monitoring) and Plumis (alternative to a fire sprinkler system). The results are reported below.
1. Plexus Innovation (automated legionella risk monitoring)
From the end of July to October 2021 Plexus Innovation worked with 3 housing providers (Sovereign, Loreburn and Selwood) to test Plexus's automated system for monitoring hot water temperature and usage as an alternative to the standard practice of monthly spot temperatures for hot water to demonstrate compliance with HSG 274 Pt2. Automated monitoring provided a more comprehensive picture of hot water temperatures and usage, showing peaks, length of time and identified any outlets not being used. It also identified maintenance problems, such as a WC being filled and flushed with hot water! The benefits of continuous monitoring include having automated alerts to any exception situations and not having to gain access (an increasing problem for compliance).

Housing providers were keen to address 3 issues:
Reduce risks (including real time alerts to potential risk of scalding), capture and management of underlying water system issues requiring intervention (alerts to taps left running or system leaks and calculating savings in water usage, environmental impact and repairs not required) including failed or failing assets.
Reduce Opex (homes where access is no longer required in person, tracking where flushing required to enable savings in time, waste and cost associated with only flushing required runs) and increase efficiency of assets by calculating return on investment.
Help plan towards net zero carbo
Benefits for participants
Cost savings of about 30% by avoiding 24/7 operation when an office building only used 5 days/week and between 50-100% by identifying which pipes needed flushing based on usage.
Automated monitoring improved compliance, enabled effective management by identifying multiple unused outlets, detecting boiler failures and other problems earlier, as well as tracking central heating performance on combi boilers. 
One organisation identified more issues, such as inefficient water heaters and WC plumbed with hot water than they had with spot checks. Another piloted automated water flushing of pipes being used in an office block instead of flushing all pipes because they had solid data to demonstrate compliance. They were also able to monitor the operation of thermostatic mixing valves. Another landlord was interested in developing an evidence-led approach to compliance and wanted environmental and VFM benefits by reduced water consumption. The final organisation had been using the system since 2019 and reported the benefits they had seen during COVID and access restrictions while still demonstrating compliance. In one home they identified no hot water use in the kitchen, alerting them to the need to check on the resident. They reported the equipment was robust because only one needed replacing.
Residents also benefited from the convenience of not needing to be available for regular testing and maintenance work.
Conclusions
Residents generally welcomed the monitoring system being installed and only one system suffered with tampering. TMV failures could be identified to safeguard against the risk of scalding. Installation required agreement across several teams (housing management, IT and maintenance) and might be more problematic with plastic plumbing.
The 3 case studies are published at: https://www.plexus-innovation.com/case-studies.
2. Plumis Automist (alternative sprinkler system)
Between July 2021 and January 2022, Proptech Innovators Network and Plumis undertook a DINLab with 4 housing providers to test out an innovative alternative to traditional sprinklers. Plumis's Automist Smartscan system offers benefits not possible from traditional approaches and the DINLab tested if this could be a better way for landlords to demonstrate compliance with fire safety requirements, identify vulnerable residents and monitor what was happening within homes. This approach aligns with the recommendations made in the Hackitt Report for a clearer model of risk ownership and digital records for traceability.
What was involved for the participants? 
Automist active fire suppression system was installed in at least two homes.
Co-development of a customised service contract for future installation ensuring that clients' needs are met, including gauging the performance of Automist over its lifetime.
Mutual learning by sharing information on current issues and ways to increase value for all stakeholders, such as:
1. What participants learnt from the installation of the Automist system?
2. What did it confirm and what did it challenge by way of their current approach.
3. Did they learn anything they didn't know?
4. Did it help providers identify different ways of delivering services, particularly whether they had been concentrating on the right service standards in the right areas?
5. Whether they would use this technology as a result?

What were the outcomes?
Plumis were able to validate the capability of the technology and show the value of monitoring temperatures in certain spaces, and also how it could be used for incident reporting.
The landlord was able to validate that Automist was a viable retrofit solution to address PEEPs in certain dwellings: https://youtu.be/IAGMFwWm6MQ
Measurement of ambient temperature that could be used to advise on carbon emissions, fuel poverty, cold spots and damp and so detect the other problems.
Sensors could be used to future proof homes, as well as monitoring temperature, they could monitor residents moving through a space to enable people to live safely in their homes for longer. Lack of resident movement could provide an alert [to a warden] that the resident may need help. Sensor mapping of where residents are could help the fire service with means of escape.
Conclusions
The challenge, that is true of all IoT sort of connected solutions is how can social landlords be enabled to adopt it. There are five areas that Plumis is focused on demonstrating:
1. the advantage of using its technology
2. how it can be integrated and compatible with existing values and practices
3. simple and easy to use
4. traceable
5. provide observable results

Plumis want to provide landlords who invest in an Automist installation with more value beyond just fire protection compliance. The same hardware can also be used to help facilitate the adoption of the smart buildings.
To learn more visit: