Heat Network Market Framework Regulations
Reminder: Consumer Protection Consultation open until 27th October!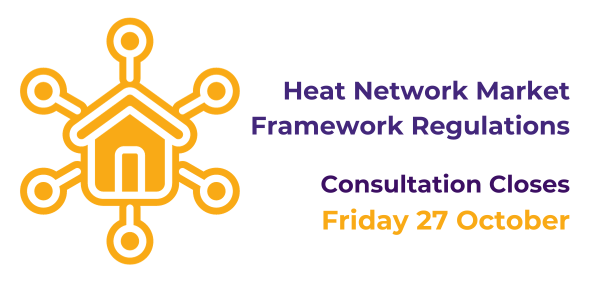 Introduction
The Government is committed to regulating Heat Networks and is consulting on its Heat networks regulation: consumer protection, as part of its plans for the full Market Framework Regulation of all Heat Networks. Respond before 11:59pm, Friday 27 October 2023.
Social landlords are being encouraged to respond to help officials ensure effective protection for heat network consumers. The sector's response will help shape the rules, ensure they work for the sector's heat networks, provide adequate protection for consumers, and that the proposals are robust, effective, and proportionate.
The Government is seeking views on areas including:
Pricing (disproportionate pricing by heat networks)
quality of service
transparency of information
consumers in vulnerable circumstance
the types of heat network that will need to comply with the new regime
the scope of the rules and how we should phase them in.
The consultation also covers proposals for Ofgem's future monitoring, compliance, and enforcement approach, and seeks evidence about areas needing further development, such as developing guaranteed standards of performance.
The Government wants to get input from all in the industry – small heat network operators and landlords to large Local Authorities, ESCOs and metering and billing agents. This is the sector's opportunity to help inform process and policy on performance, quality assurance and customer satisfaction.
Who will be regulated?
Heat network operators, typically responsible for day-to-day operation & maintenance (plant, distribution, connections). They are most likely to be asset owner / long-term concession (ESCo).
Heat network suppliers, those supplying heat & hot water to customers. They tend to have the direct contractual relationship with consumers.
Existing heat networks will be authorised from commencement (Spring 2025) and will
have to provide information by the end of the initial period (year 1)
New heat networks will have to apply for authorisation before they begin to operate/supply.
Why is it important for social landlords to respond?
Social landlords manage 50% of all heat networks and will be directly affected by the Market Framework Regulations but have limited resources and are least prepared. By responding to this consultation, even with a simple letter highlighting some really key overarching points, they will help officials design proportionate regulations and processes suitable for even the smallest of heat network schemes. Such responses will support and supplement The Heat Network's response and strengthen the case for the new regulations and processes to be proportionate.
Which aspects should social landlords respond to?
One particular area relates to the quality of service (Q29-33) because social housing providers have established customer service arrangements and a regulated complaints process. It would be better for customers to use these for raising issues about their heating and hot water rather than to be required to have a different system for heat networks, which could be confusing for customers to report heat network problems. Please examine the proposals to consider if a case should be made to Ofgem to allow the sector's existing complaints service to be used for these new regulations.
Other aspects to be considered relate to Scope (Q1-8) and Pricing (Q12-28).
How to respond?
Respond online via the consultation or email: HeatNetworksRegulation@ofgem.gov.uk.
Note: Responses do not need to address all the areas being consulted on.
What is The Heat Network doing on behalf of the sector?
The Heat Network has been working with its members to develop an evidence-based response from the sector. It is encouraging its members and the rest of the sector to respond – even if it's only a 1–2-page letter highlighting some really key overarching points.
The Heat Network has identified these overarching principles to help the sector respond.
The principles of consumer protection, especially for customers living on heat networks managed by others are welcome.
Social housing manages 50% of all heat networks – it is a significant voice.
Social housing is already heavily regulated and have a social mission to care for those most in need.
It runs its heat networks on a not-for-profit (NFP)/cost recovery basis: all costs would have to be passed through to customers (or run at a loss).
Its heat network teams are small – they have low budgets and limited staff resource.
Awareness is still low in the housing sector - and those who do know, often don't appreciate the amount of work that will be required.
Where can I find out more?
Heat networks regulation: consumer protection
The NHMF are grateful for the assistance The Heat Network has provided with this bulletin.