NHMF best practice articles

Since 1 April 2007, St Georges Community Housing has been the Arms Length Management Organisation (ALMO) for Basildon Council. St Georges Community Housing manages over 13,000 homes and tenants throughout Basildon and is governed by 15 Board Members. St Georges Community Housing strives for Excellent Partnerships, Excellent Homes, Excellent Neighbourhoods and Excellent People.
Mandie Skeat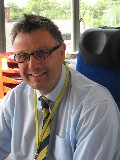 Shepherds Bush Housing Group's repair service is now one of the best in London. Our residents are among the most satisfied with the overall service provided by us.
Greg Birch

Harvest set up a 7-year repairs and gas partnering contract with Cruden Property Services and PH Jones in 2007, to cover 10,000 homes, with a value of 45m. Partnering is often used to describe a relationship between client, customers and contractors, but its principles are rarely executed effectively.
Vicki Heyes

Great Places Housing Group is a fast-growing housing association with ambitions to continue to expand whilst constantly improving its already excellent customer service.
Bryan Beaumont

Aspire's Maintenance Services Team provides repairs, gas servicing and major improvements to 8,500 homes. We believe that we provide a very innovative repairs service and our submission will detail examples of our innovation around gas servicing, Equality and Diversity, value for money and providing training and employment opportunities.
Tony Campbell

Bushbury Hill appointed Property Care to dramatically improve its operational efficiency in response to low tenant satisfaction levels, low productivity and higher than average costs.
Kimberley Hamilton

Our 2009 Customer Status Survey informed us that 73% of our customers considered that Home Repairs and Maintenance was, unsurprisingly, the most important thing we do.
Gemma Mundy

Breyer B-Line has created an innovative partnership with its client Southern Housing Group (SHG), to continually identify new ways to improve our service, by engaging with SHG's residents to fully involve them in them in the decision making process and management of our Responsive Repairs and Maintenance Service to improve customer satisfaction.
Sarah Ward

Our submission is a summary of the approach that the BVT client maintenance function has taken to achieve and surpass the decent homes standard. Even though BVT is a relatively small organisation, size does not need to be a barrier to delivering excellent, tailored services to our customers.
Andrew Griffiths

M & Y are a recently harmonised DLO with a high drive to succeed and a competitive edge. M & Y have trebled in size in the last 12 months and diversified into many new services, managing to maintain high levels of performance and customer service in their exisiting responsive repairs delivery. M & Y have won many awards for their best practice, social responsibility and quality of work. We have strong customer focus, endless passion and enthusiasm and believe our service is exceptional. M & Y has a very commercial edge and strong social values. M & Y staff demonstrate passion, commitment and courage on a daily basis and through this have very good resident support and involvement. M & Y are the contractor of choice for Regenda and are looking to become the contractor of choice for external providers soon too, the sky is the limit
Search the bulletin articles