Bulletin | Special feature
The NHMF awards – benchmarking success
Anyone who has attended the NHMF Awards dinner will know it is the focal point of the annual NHMF Maintenance Conference in January.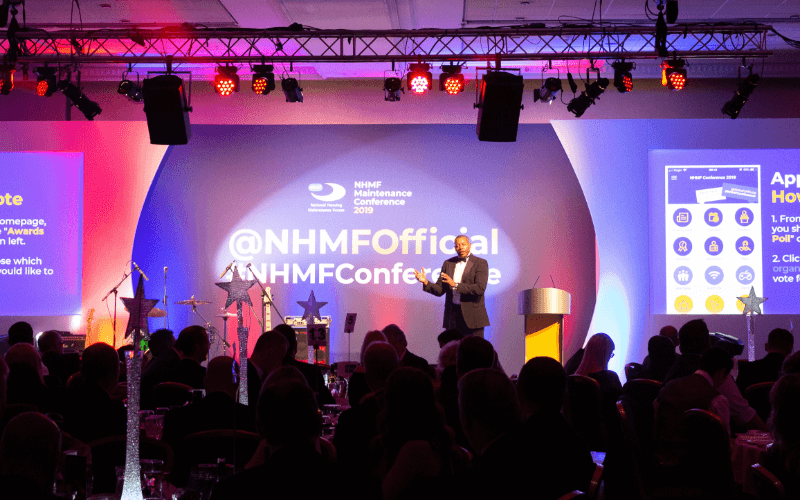 It provides an ideal forum for both social housing providers and contractors to come together and recognise the success and ingenuity of organisations that have demonstrated outstanding achievement within the housing sector. It is also a chance for applicants to showcase joint projects where they have excelled in improving the quality and efficiency of the services they provide.
The NHMF committee works hard to promote its mission to be the centre of excellence for improving property performance. For an organisation to win an award, it must demonstrate that it has provided first rate services to its customers and has a clear remit to deliver value for money initiatives at the core of its asset management strategy. This year, we received a wide range of entries across five categories which included 'best apprentice scheme' and 'best contract'. Details of all the winners can be found on the website.
Winning an NHMF award allows organisations to share their success across the group, as well as the industry as a whole. It supports the NHMF in promoting best practice and gives us all the opportunity to contribute to the collective knowledge base. It is also an excellent way for organisations to reward team members for all their hard work and benchmark their success.
Entering a project for an award may seem like a lot of hard work with no guarantee of a return on your investment. However, if you view it as an exercise in its own right, it can deliver long-term tangible benefits. Many applicants have told us that the process of putting together their awards submission was an extremely useful exercise which pushed them to formulate a clear case as to why their project demonstrated genuine innovation. This is particularly useful if you need to secure buy-in from senior management or encourage your organisation to approach future projects from a different perspective. Finally, in a notoriously risk-averse sector where we need to account for every penny to our stakeholders, the ability to showcase a project that demonstrates tangible benefits is a useful tool when putting together a business case for future investment.
The NHMF awards are free to enter and applications open in August 2019. If your organisation is interested in finding out more, please visit the website for detail