NHMF 2022 | Featured
NHMF Awards 2022 - Apprentice of the Year Winner : Kyle Hall, Nottingham City Homes
Kyle Hall, a plumbing and heating apprentice with social housing provider Nottingham City Homes (NCH), is the worthy recipient of our Apprentice of the Year Award. Kyle has kept on track to complete his apprenticeship despite a number of major setbacks – not to mention the global pandemic!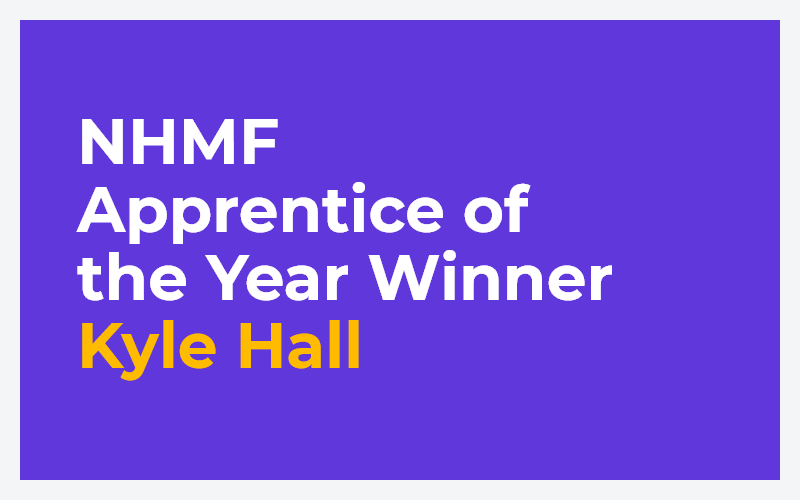 He's won this category because of his hardworking and determined nature, his commitment to supporting others, and his passion for demonstrating to his children that dreams can be realised through hard work and dedication, even when faced with difficult circumstances.
Kyle says, "I used to see NCH apprentices around college, so when I saw an apprenticeship with NCH I decided to apply. NCH is willing to invest not just in training but in individuals too, and I wanted to be a part of that.
"I'm so pleased that the NHMF has recognised my achievements to date, and I hope I can use this win as a platform to inspire the next generation of heating engineers. I now look forward to completing my apprenticeship, and building a long career with NCH."
Training provider:West Nottingham College
Employer: Nottingham City Homes
Judges' comments
Great personal story, Kyle has shown commitment and resilience.
Early setbacks and difficulties have made him more determined to prove and make something of himself.
Would make a great mentor.
Achievements
Plumbing and heating apprenticeship Level 2 Framework
Ladder and Harness certification
Baxi and Vaillant Training
Various e-learning accreditations
Why this apprentice should be Apprentice of the Year? What makes this apprentice stand out?
Kyle is a hardworking and determined individual who always strives to achieve his best. His determination to complete his apprenticeship was demonstrated in the face of several set-backs, such as his first company stopping sponsorship just before he was due to complete, required him to start again completely. The global pandemic nearly prevented him starting his Level 3 in March 2020 and the change from Frameworks to standards almost forced another restart. He has also experienced racism during his first apprenticeship.
Give an example where this apprentice has shown commitment to learning at college and another where they've shown commitment to learning in the workplace.
Kyle's commitment to learning at college is best demonstrated by being prepared to start his level 2 apprenticeship again and then overcome further setbacks. His apprenticeship started in 2016 with a small plumbing company but just before he was due to complete, it had to stop sponsoring his apprenticeship. He was forced to look for another company to continue his apprenticeship and was accepted with Nottingham City Homes but the provider they were using was not with the exam board he had started with. He had the daunting prospect of having to restart his whole apprenticeship. With renewed determination, he started again because he wanted to achieve his qualifications. Almost 2 years onto the new course he was once again faced with a problem; the training provider he was working with had to close but he was fortunate enough to have completed and submit enough evidence to complete his apprenticeship before they closed down. This required maintaining a steady pace to get all the work done.
He was then ready to start his level 3 apprenticeship in March 2020, but this was put on hold due to the global pandemic. His employers understood and maintained his employment throughout the national lockdown, but it was time that he could have spent undertaking his level 3 apprenticeship and learning additional skills. He was unable to sign up to complete his next level until October 2020, and apprenticeships had changed from Frameworks to standards so that he was faced with the possibility of having to restart yet again, this time undertaking a 4-year apprenticeship. Discussions enabled his level 2 apprenticeship to be taken into consideration to reduce the timeframe to a 2-year period. He is now one year into his level 3, and still enjoying learning about plumbing and heating. He is as determined as ever to complete his apprenticeship and gain his plumbing and heating qualifications to be employed as a heating engineer, despite the many setbacks that could have made him give up and return to his previous job in hospitality. During his first apprenticeship he faced racism, which sadly became an everyday occurrence. He had to battle racial slurs and insults to prove that he was worth keeping as an apprentice.
Outline a scenario, where this apprentice applied the knowledge, skills and behaviours they've learned. How did they do this?
He applies all the knowledge and skills he has learnt on an everyday basis. While at work he attends properties every day and helps to resolve any plumbing and heating concerns they may have. Operatives are never sure what the problem is, and so he had to identify the fault, make a plan to fix it and then undertake the work required. At all times he kept the tenant informed of what was happening and is often thanked for his customer service. He also takes part in Tenant DIY days, organised by NCH to support their tenants with items in their tenancy agreement for which NCH are not responsible, such as toilet seat changes, light bulbs, changing cupboard door handles, unblocking toilets/sinks, etc. He demonstrates how to do each task, and then assists the tenants with additional help while they practice their newly learnt skills in NCH's workshop area. By participating in these days, he imparts his skills and knowledge that he is continually learning to complete his Plumbing and heating apprenticeship.
What evidence shows this apprentice takes Health & Safety and Compliance seriously?
He has completed all his in-house health and safety training requirements for NCH via both classroom and virtual settings. He has undertaken a variety of e-learning modules during his apprenticeship and continues to undertake yearly updates. He has undertaken the following courses, demonstrating that he takes health and safety in his role seriously. He strives to make his working environment a safe space by putting into practice everything he learns:
Ladder and harness training
Using DSE (display screen equipment)
Fault finding in gas appliances
Power tool awareness
Equality and diversity in practice
Manual handling
Fire safety
Safeguarding: staff and tenants
Legionella
Incident reporting Slips, trips and falls
General data protection regulations
Environmental awareness
Fuel poverty
Asbestos awareness
Risk appreciation
Time management
Code of conduct
Working at height
Construction dust
PPE Safety
List this apprentice's top three relevant personal qualities.
Drive: Driven to make the best out of his circumstances and determined to complete his apprenticeship, overcoming any obstacle that may deter him.
Family oriented: Wants to demonstrate to his children that dreams can be achieved through hard work and dedication, and not to give up, even if faced with difficult circumstances.
Reliant: Want people to know that if he is undertaking a job that he can be relied on to undertake the task, turn up on time, know what he is doing and do the job correctly - 'Right first time' – when he is sent to a property to fix something. He wants people to know that they will get a full service, including great customer interaction to the point when he is requested to do a job.
How has this apprentice shown commitment to their own personal development and progression?
He is a determined individual by not giving up but enduring and keeping on track despite many setbacks and facing racism, college closures, Covid 19 delays, while dealing with a new and growing family. He has shown commitment to his apprenticeship, completing his level 2 and starting his level 3. He wants to work as a heating engineer and believes he has shown strength and determination to do so. He undertakes all course and NCH training requirements and strives to be the best he can be. As well as being an example to his two young children (5-year-old daughter and new-born son), he resolutely wants to provide for his growing family.
How has this apprentice inspired others?
During his level 2 apprenticeship, as he had to start again, he shared his prior knowledge with the rest of the class. When learning the basics, if the tutor was unable to support everyone in class, such as when others had to wait their turn when they had a question or needed help with a practical element because he had prior knowledge and could support others, he often helped out in these circumstances. As the college started to close down and he had already gained most of the evidence required, he helped the other apprentices compile their portfolios and supported them completing their write ups. This encouraged others in the class not to give up and continue despite the fact that they may not be able to submit their work. Out of another 9 students undertaking their level 2 course, another 4 apprentices were supported to complete their course.
He has also taken part in numerous tenant DIY days, which NCH hold to support their tenants with items within their tenancy agreement for which NCH are not responsible, such as toilet seat changes, light bulbs, changing cupboard door handles, unblocking toilets/sinks, etc. He gives demonstrations on how to do each task, and then assists tenants while they practice their newly learnt skills in the workshop. He believes that by participating in these days he can inspire others to learn and knows from having these discussions he has influenced a number of people to apply for an apprenticeship with NCH or careers in construction as a whole.
He is enrolled as a YAAN apprenticeship ambassador as well as being a CiTB construction ambassador. While he is new to these roles, he is eager to share his experiences with those willing to listen and having similar aspirations.
How does this apprentice contribute to the vision and goals of your organisation?
Nottingham City Homes has the following statements:
Vision: To create homes and places where people want to live.
Goals:
To deliver the NCH tenants' charter
To be safe in your home
To have a good quality home and neighbourhood to live in.
To have a home you can afford
To have your voice heard and to be treated with respect
To know how we are performing
To have complaints dealt with promptly and fairly
To diversify and grow
To pursue organisational excellence
Kyle believes that he is an integral part in NCH achieving its vision and goals. When he goes into a tenants' home, he treats all tenants fairly and with respect because he understands he can be first contact between tenants and their landlord (NCH). He has first-hand experience of being treated unfairly and does not wish somebody else to be treated in that manner. He is part of the team that makes homes a warm and safe place to live. His team is especially needed in the winter months by making sure that the most vulnerable tenants are warm. He values making a difference to elderly residents or new born babies, as well as making a difference to the community around him. Having a new born baby himself, he empathises, knowing how difficult the first few months can be, and is proud to deliver a service so that they do not have to worry about heating. He is part of the next generation of heating engineers making NCH a place of work that reflects the diverse community it serves. He no longer feels he has to prove he is worthy of an apprenticeship because he is accepted as a valued member of a team, delivering a high quality and much needed service to the Nottingham area.