NHMF 2022 | Featured
NHMF Awards 2022 - Apprentice of the Year Shortlist: Brandon Sullivan
Why this apprentice should be Apprentice of the Year? What makes this apprentice stand out? Brandon would make a suitable candidate for "Apprentice of the Year" because of his exceptional organisational skills and willingness to learn.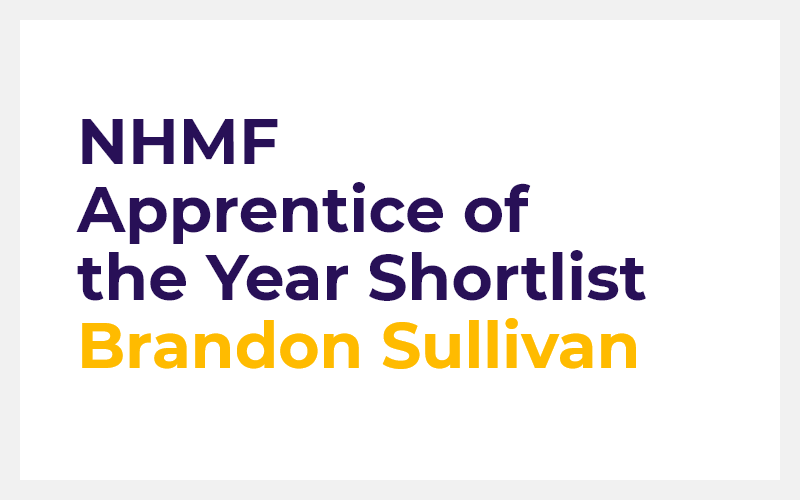 Training provider: London South Bank University
Employer: United Living Group
Achievements
Inaugural winner of a new United Living "rising star" initiative
Completion of Thurrock Transforming Homes & other key projects – effectively acting as QS (even though still an Apprentice QS)
Mentor for other United Living trainees
Why this apprentice should be Apprentice of the Year? What makes this apprentice stand out?
Brandon would make a suitable candidate for "Apprentice of the Year" because of his exceptional organisational skills and willingness to learn. He always requests constructive feedback on all aspects of his work and adopts an attitude in which he strives for continuous improvement across all aspects of his performance. He is fully aware that he is in the formative years of his career and wishes to soak up as much information as possible.
Give an example where this apprentice has shown commitment to learning at college and another where they've shown commitment to learning in the workplace.?
Brandon has shown a commitment to his learning at London South Bank through his consistent application in his spare time to ensure he is up-to-date with all of his reading, revision and coursework submissions. He regularly uses downtime between lectures to work with his peers on groupwork, write assignments and request feedback and information from lecturers beyond the teaching period. As discussed above, his commitment to learning has enabled him to continuously achieve good grades and to meet his targets.
A clear way that Brandon has shown a commitment to learning within the workplace is through his diary management and emphasis on booking a minimum of one day per week outside of the office environment, whether in other areas of the business, on site shadowing the site team, or carrying out factory visits to suppliers. He took up the opportunity to visit Astraseal's manufacturing centre in Wellingborough. Astraseal is the main subcontractor on the Thurrock External Works Project and are manufacturers, fabricators and installers of REHAU, Smarts and Reynaers windows and doors. As the main sub-contractor to the project, Brandon saw the visit as a valuable opportunity to see the production line in full swing with raw materials coming into the factory to be made into the windows and doors which were being handed over to the client in only a matter of days' time. He found the visit specifically useful because he was able to pick up and feedback, from his conversations with the clerk of works, to the manufacturer any recurring defects and manage client expectations. Finally, he has continued to use his time spent outside of the regular work environment to build up towards his 20% of the job learning portfolio on a regular basis.
Outline a scenario, where this apprentice applied the knowledge, skills and behaviours they've learned. How did they do this?
A good example is how Brandon applied the knowledge, skill and behaviours learnt is through United Living's CVR (Cost & Value Reconciliation) process. CVRs is the monthly reporting process where a QS can calculate the project's current profitability by comparing cost and value to calculate how this will be at the end of a project. Brandon has been empowered in his development over time with the full QS responsibilities of Thurrock Externals, and other new projects coming to site. CVR was one of the final responsibilities Brandon's line manager and Senior QS devolved to Brandon. Over a 5-month period, he was able to go from being a stranger to the document to being able to carry out the task diligently and professionally with next to no assistance. The process of learning and development included, shadowing, taking notes, assisted completion, all the way through to primary responsibility with a small review over a 5-month period. Following further reviews, Brandon has gained more and more confidence and is now able to carry out and complete the CVR process at United Living in a professional and accurate manor with little to no assistance. As a part of his increased confidence with the reporting process, he has had to present his CVR to his Senior QS, Commercial Manager and Commercial Director. As a result of the diligent notes which he took, originally for his own benefit, Brandon was able to convert this information into a user guide for new starters who are looking to learn how to carry out the complex reporting form. He has undertaken further training sessions with other members of staff to aid both his and their understanding of the process.
What evidence shows this apprentice takes Health & Safety and Compliance seriously?
A key way that Brandon has shown an aptitude towards Health & Safety Compliance is through his enthusiasm to understand "Temporary Works Procedures". Working within property services and specifically refurbishment, this is a key concept for all members of the project team. Brandon regularly seeks the advice of his SHEQ advisors, along with his Temporary Works coordinators to ensure the project is being run safely. He has now undertaken Asbestos awareness training on three occasions. This has made him aware of the severity of the risks posed by asbestos, while also providing the knowledge and skills needed to work in a safe manner to avoid disturbing asbestos. Once again working within refurbishment this training is absolutely pivotal for him to continue to work in a fully safe and competent manner. With Brandon predominantly working on external refurbishment projects at the current moment, he has set aside time and had meetings with both his Senior Site Manager and his scaffolding contractors to understand the rules surrounding the newly published TG2021 guidance for scaffolding. He felt he would benefit from learning from industry professionals as he often has to justify the variation cost of Scaffold Designs. By taking the time out of his schedule to understand new regulations he has shown a clear commitment to upholding Health & Safety and Compliance.
Brandon has been studying an RICS accredited Quantity Surveying Degree at London South Bank University since September 2018 and is currently in his fourth of five years of study. During this time, he has consistently dedicated himself to his studies and achieved really good grades to meet the targets which have been set by himself, his line manager and United Living (his employer). In September of this year, he was recognised by his Divisional Director Sam Hazelton as the inaugural winner of a new "rising star" initiative United Living have set up. The idea being for Directors and managers to put forward recommendations for young employees to be recognised and rewarded for outstanding performance at a divisional board meeting. Brandon was put forward for his outstanding contribution in completing the Thurrock External Works programme which was both a very well performing job for United Living Property Services in general and also the first project entrusted to Brandon to lead the commercial responsibilities (despite his title of Apprentice QS at the time). He embraced the lead QS role, building on the knowledge obtained through assisting other Senior Quantity Surveyors previously on a variety of projects. Under the stewardship of other senior members of staff, he has become totally comfortable and familiar with carrying out all the roles and responsibilities expected of a QS. This would include representing United Living in client facing meetings, reporting internally to directors on project performance and obtaining the sole responsibility for managing all relationships with sub-contractors. Within his Personal Development Review in May he highlighted to his line manager that he aspired to learn the basic principles of Microsoft Project to broaden his understanding of the roles and responsibilities of the operational team. He also hoped to use the tools in-bedded within MS project to produce accurate Cash Flow forecasts, which is a Key Performance Indicator for all Commercial staff within United Living. In September, Brandon welcomed the opportunity to undertake this training (delivered by an external provider) alongside many senior operational staff and has taken quickly to the new software while helping his colleagues understand within the session.
List this apprentice's top three relevant personal qualities.
Brandon is hardworking and dedicated in all that he does and it is well known within United Living that he does not cut corners with anything he does It is clear to see that this rubs off on those around him. Despite being a younger member of the organisation, he always conducts himself in a professional manner beyond age/experience. This is evident in the devolved responsibilities that are within his personal scope of work and the well-respected status he has with his colleagues, clients and sub-contractors. In conjunction with the above Brandon is very reliable and very trust worthy. This is clear to us in his confidence to hold his hands up to areas where he feels he needs extra support. While he is continuing to develop at an exceptional rate, he rises to the difficulty of pulling in the reins at times to ensure a job is complete correctly. This is also clear when Brandon has highlighted periods where he has highlighted to United Living the time he requires to focus on his studies, particularly closer to exam periods.
How has this apprentice shown commitment to their own personal development and progression?
One clear way in which Brandon has shown a commitment to his own personal development and progression is by continuously looking for more work when he has capacity. As he becomes more competent, it is clearly understood that tasks will be completed at a quicker pace and he is able to manage his diary efficiently. On numerous occasions he has made his line management and team aware when he has further capacity to take on more work. In turn this has led to Brandon being in the position he is in today. While progressing with his day to day working responsibilities, he continues to balance work and studies with relative ease. He fully understands the importance of achieving his university degree to pass his apprenticeship and continues to hold himself to account with all of his university work. He has made clear to his line management his desire to work on increasingly challenging projects. This is evident as he currently looks after a variety of packages from FRA works, External repairs and cladding replacement works. In the future Brandon aspires to work on more design and build works to enhance his general building understanding. He also takes the time out to have regular meetings with his Mentor, Tommy Nightingale (Operations Manager). During his meetings, he uses his mentor's knowledge and experience to seek advice on how to deal with challenging situations. Brandon has already undertaken a similar role in acting as a Mentor to Zion Peddie. This has allowed Brandon to develop and improve his communication skills, reinforce his own knowledge, and expand his network.
How has this apprentice inspired others?
Brandon has helped inspired others within United Living and within his own personal social sphere in a number of ways. During our on-boarding process of taking on new apprentices, he has taken the time to give a presentation to prospective candidates about the role and responsibilities of being an Apprentice QS. He then held a Q&A session with the candidates where he was very open and honest about the challenges of the role while also outlining the satisfaction involved in delivering a multimillion-pound project to a professional standard. This contribution is critical in attracting and retaining apprentices as they can see first-hand what is achievable in a relatively short timeframe through hard work and dedication. As discussed above Brandon outlined to United Living his aspirations to become a mentor to other members of staff who were looking to follow a similar path to himself. In September 2021, he was therefore put in touch with Zion Peddie, a new member of the commercial team following the apprenticeship route. Since Brandon and Zion have been working together, Brandon has taken Zion on site visits with himself at every opportunity to aid his development and understanding of the sector we are working in. In his role as a mentor, he has also scheduled regular catch-up meetings with Zion to assist him with any challenges he may be facing or to discuss areas he feels he is progressing well. Brandon has also taken the time alongside our Early Careers team to attend a number of events which aim to provide insight to the exciting prospect of being an apprentice across all industries, not just Construction and Housing. This includes attending his Secondary School and 6th Forms careers fair, as well as spending the day at Skills London event 2019 for Be First, Barking & Dagenham, a client which Brandon is now currently working with. His promotion from Apprentice QS to Assistant QS is inspirational to his colleagues and peers as he has clearly shown that reward & recognition is there for all staff who continue to exceed expectations, have a willingness to learn and most importantly develop their skill set during their apprenticeship period.
How does this apprentice contribute to the vision and goals of your organisation?
The key pillars of United Living Group are Customer excellence, partnership delivery, social gain and honest endeavour.
Brandon's relationship with clients remains universally positive, with clients welcoming the opportunity to work with him. This has been evident with Potter Raper being notably pleased to see Brandon as the commercial lead on the new BeFirst project for Barking and Dagenham following their successful relationship on our Thurrock contract.
His ability to work in cohesion with all stakeholders of United Living's projects clearly supports its goal of Partnership Delivery. This can be seen through his relationship with sub-contractors, clients and his colleagues.
Brandon has shown a clear aptitude towards Social Value and working together with the organisation to improve the communities we are working in. He has undertaken a number of social value training sessions, and not hesitated to get involved in volunteering opportunities. He has also successfully arranged for a number of social value projects on site to be completed by the supply chain and project teams. Finally, he has also taken the opportunity to integrate social value into a number of his university assignments and leads the way with his understanding of the newly published Value Tool Kit from the Construction Innovation Hub.
United Living's final strapline, Honest Endeavour, working with integrity and professionalism in everything it does. It is clear to everyone within our organisation that without honest endeavour Brandon would not have been presented with the opportunities that he has continued to take and build a well-respected reputation.