Bulletin | Skills shortage & worker health
Promoting diversity - women in maintenance
At Guinness, promoting diversity across our business is a priority. This includes the role of women in maintenance (WiM) where on average tradeswomen represent 2% of the workforce. Given the challenges of customer service and trades skills shortages in housing, our sector provides a great opportunity to promote careers and broaden aspirations.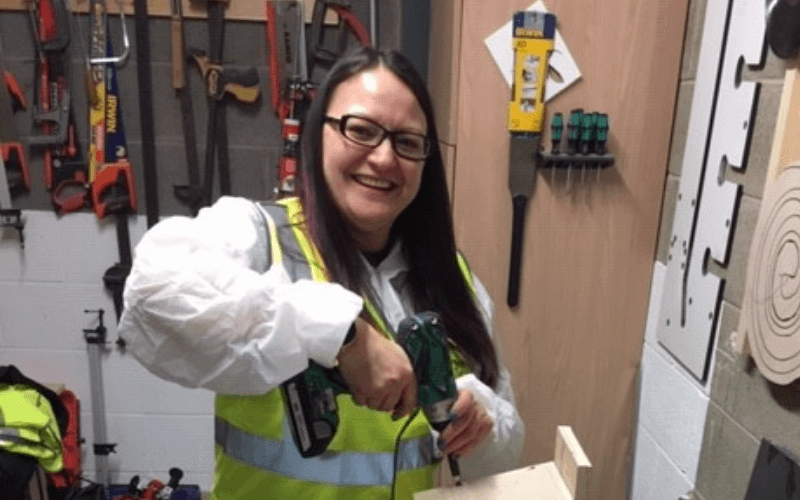 Along with colleagues, I was delighted to present at January's NHMF conference to promote how Guinness and Sovereign are committed to developing a diverse workforce including more tradeswomen - not just in Guinness but across the sector.
At the forum, Helen Colwill, a Guinness electrician and Tradeswoman Ambassador, joined Liane Sheppard, Operations Director from Sovereign, and myself in leading a workshop on 'Women in Social Housing Maintenance'. We took the opportunity to share work that we have been undertaking with others as well as on our own, to increase the number of tradeswomen. We don't have all the answers, but we wanted to share good practice and listen to new ideas.
So why still so few tradeswomen? At the workshop Helen explained the challenges from personal experience - career stereotypes, lack of female role models, limited recognition of trades as a career route, poor recruitment and basic failures to adapt the working environment. All play a part and we can respond to each.
Encouraging more women into apprenticeships or to return to trades roles
Whether in advocacy, recruitment, training, or the support network, we will be taking steps forward this year.
We will develop the overall apprenticeship experience at Guinness, improving pastoral support, upskilling managers to support their apprentices and developing a mentoring system between former and current apprentices. 
We know that smarter recruitment is also key – overcoming the barriers that women face, positive marketing and joining up HR teams across the sector to boost recruitment.
We will also seek to broaden our routes into Guinness to make sure that we, and our contractors, can attract and retain tradeswomen. Working with partners, we will hold more 'Kickstart' free training programmes this year to help women kickstart a career in housebuilding or construction. We will offer more work experience for budding tradeswomen at college or, as we did to celebrate National Apprenticeship Week and International Women's Day, host free 'Try a Trade' sessions for female customers and colleagues who want to try their hand at joinery, plastering or tiling. Meanwhile, we will work with our tradeswomen and staff forum to implement their ideas to improve the working environment, helping Guinness to be a great place to work.
We will work with a range of partners (our contractors, communities, colleges and other housing associations) to promote WiM and encourage more young women at school, and women returning to work or changing careers, to consider a career in maintenance. We want to work with other advocates – we have signed up to '2019 Positive about Women in Construction' and we are actively seeking other advocates to help promote the initiative, for example those talking about diversity, apprenticeships, customer service or skills shortages.
Ambassador training
We have also announced that we are organising and hosting a free training workshop in the summer to support volunteers who are willing to be advocates and role models for diversity in the trades workforce across the sector.
This is just the start – we hope that our vision will inspire others to do the same so that we can raise the bar and move beyond 5% towards 10% of the workforce quickly, as a new decade approaches. 
To find out more about joining The Guinness Partnership as an apprentice, email apprentices@guinness.org.uk or visit the Guinness website: guinnesspartnership.com