NHMF Awards 2023 | Most Innovative Property Service and Delegates' choice Winner: Orbit & Parametrix
Shortlist:Qualis Management | Octavia Housing & Chirpy Heat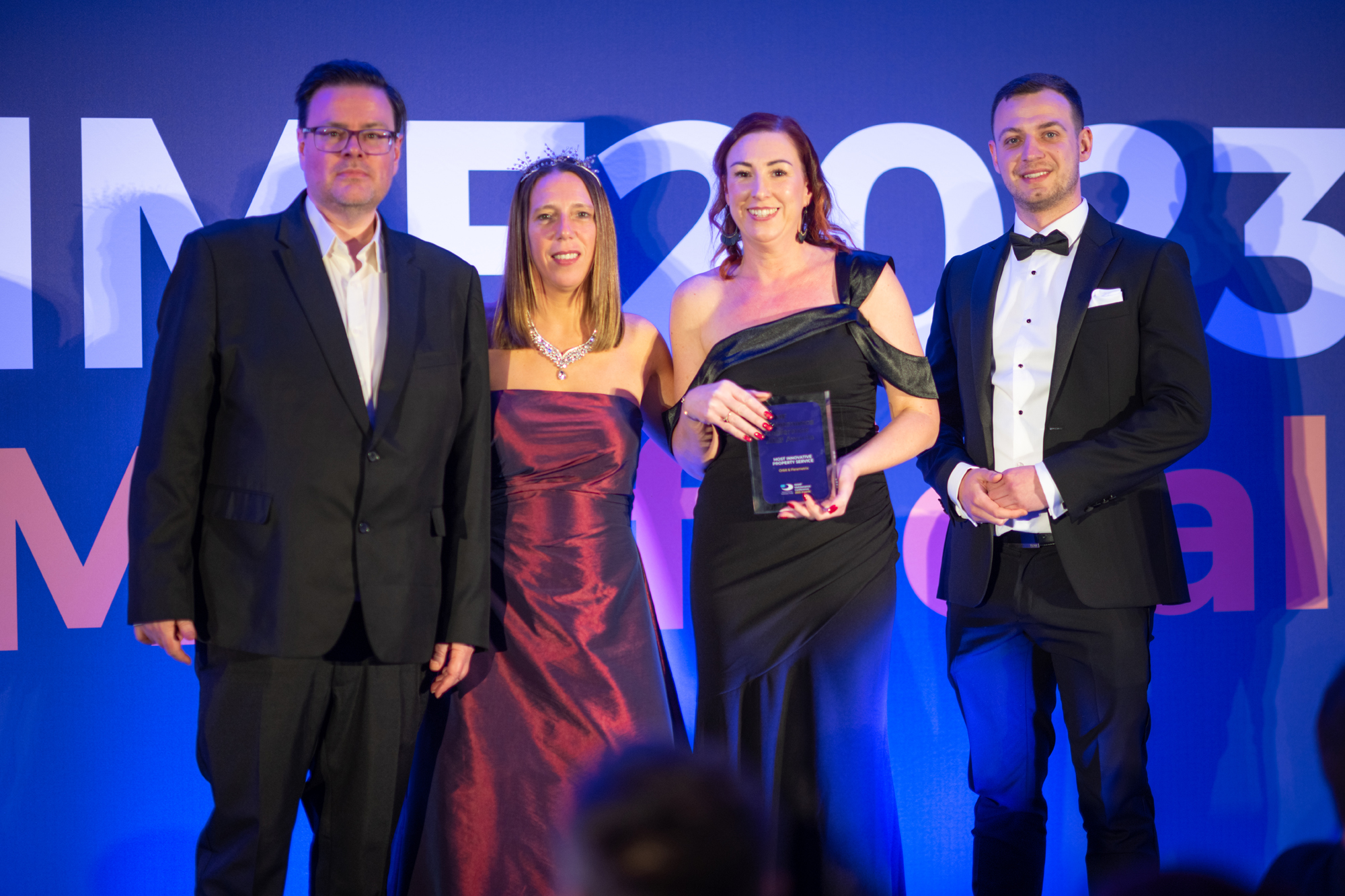 Judges' comments
Orbit's winning submission presented a very strong and impressive demonstration of the value of BIM beyond compliance. Good innovation (scan to BIM, Digi Twinning, thermal imaging by drone), combined with long term benefits, to support building safety and the development and management of the Golden Thread. An example was cited of a modelling tool to improve safety changing a project, making savings (project and energy costs) to reinvest elsewhere. It was a great example and linked with HACT a real benefit. Scalable, good use of technology and innovative. It was good to see a high level of customer consultation.
Qualis' submission was also very strong, compelling, and excellent on how to provide a modern service. LATCo used to in-source, with a range of DLO best practice measures being used and income generation for parent (EFDC). There were some good performance stats, strong local connections, strong KPI performance and SV from jobs, training, and work placements. A great example of VFM with 2 years of Accounts, savings to parent (assumed reinvested in HRA). An extremely effective model, potentially scalable as an in-source model (subject to Teckal), that could be sold to the external market as a service, possibly using the bonus scheme/PR pay innovation.
Octavia's submission was a great solution to an area requiring more detail and innovation. A good level of detail provided on predictive maintenance from a Data Management Tool to manage Heat Networks to improve energy efficiency, to reduce operating and maintenance costs through proactive measures with less human intervention. The system would support future Regulation and provide some benefits to client and customer. Scalable to other providers with Heat Networks, subject to Chirpy Heat's capacity.
Orbit & Parametrix
What is the project and what is innovative about the service provided?
Orbit partnered with Parametrix to survey three 18m+ residential buildings to create an accurate digital record of all building information (BIM) to bridge the gap between the built asset and technology. Orbit's main aim was to understand its buildings better and so be able to keep its customers safe through the whole life of the asset. The project overachieved its purpose of delivering "The Golden Thread of Information" by defining information needs for all possible building elements (templated and catalogued digitally). This involved working with the wider operational organisation to define organisation-wide information needs to unlock more efficient working methods. A series of on-site surveying activities followed including laser scanning, thermal drone operations, intrusive build-up investigations, risk assessments and legacy data reviews which provided a large volume of novel findings in line with project's aim. The use of Scan-to-BIM is becoming more popular, Orbit's process, focus on safety and experimentation with state-of-the-art technology resulted in a Digital Twin that is compliant with the Building Safety Act, optimised for ongoing information updates and carefully crafted for IoT sensor implementation. This project influenced Orbit's suite of requirements documents following ISO 19650 BIM standard which is critically important in understanding its organisational needs to re-design and upgrade its asset management system. As a result of this project, Orbit has a greater understanding of what information is critical to hold about all its buildings for long-term management, maintenance, improvement, and regeneration.
What are the measurable benefits to the client, the contractor, the resident, and the neighbourhood?
Orbit put its customers at the heart of this project, through continuous communication it reassured them that this project was taking place to ensure their buildings and homes are safe. Extensive customer consultation was conducted, including home visits to each one to talk them through the process being undertaken, the reasons for carrying out the project and gaining their thoughts and insights. Orbit also used their local knowledge including historical building information to provide it with an understanding of how the building's changes over the years had impacted the estate and community. Gathering all this information along with the technical surveys helped provide insight into how these buildings interact and perform so Orbit can make better-informed choices about future changes and improvements. Orbit's intention was to conduct replacement window programmes however the drone heat mapping results showed that the windows, even though significantly aged, were performing better than the external wall system for retaining heat. Replacing the windows in isolation would cause heat/damp spots within the building that would contribute to mould growth. Intelligent data gathered has allowed Orbit to make choices that will benefit customers in the longer term, increase customer satisfaction with their homes and reduce problems that would be harder and more costly to fix. Furthermore, the specialist energy assessments undertaken informed the current performance of properties and the calculation of holistic improvement options to digitally prototype and justify the investment budget required. Project was driven by social inclusivity which is why Orbit met with the customers to present its findings to them and discuss the next steps now being considered to tackle some of the interlinked life cycle problems associated with these distressed 60-year-old high-rise buildings. Orbit found that Information Models (BIMs) can be used beyond being a digital inventory and via their use in residents' consultations, can showcase refurbishment options, visualise community impact and even predict critical benefits the regeneration will provide. This estate has a great community feel and has proud residents hence Orbit is keen to bring these tower blocks back to their deserved glory and high standards of living at initial construction. Modelling and data are accessible for staff and contractors to use on-site and Orbit is looking to expand it to its customers in the future. Some practical benefits will be around repair identification and resolution increasing its first-time fix rate to reduce service charges giving more confidence in Orbit's ability to manage its buildings efficiently. The information models are not only 3D building replicas but also smart databases holding 2D plans, schedules, specifications and schematics for supporting tenders with accurate information, providing contractors with exact building detail and overlaying fire safety information for customer and fire service use.
What are the financial costs and measurable cashable benefits over a defined time period?
Orbit used the outcomes of the surveys (accurate building information) to give it insight into interlinking problems. This led to an initial £1million saving by not spending on property improvements that would have had severe impact on other major parts of the building with further cost implications. The information gathered has allowed Orbit to rethink its approach to the building for futureproofing and reinvesting. Some measurable benefits are priceless, the benefit to customers and the impact this has on the long-term community create massive social benefits that are hard to value. This project's value and savings are for the life of the building, so Orbit will continue to see financial impacts longer term. As the project expands across further buildings, it will have significant impact on the business with savings across various areas such as reducing responsive repair costs by increasing the number of "first time fix", procuring supporting work to gain exact cost for responses saving Orbit and its customers money through service charges. Staff time will be more impactful because the project outcomes will make operations more efficient and reduce staff time traveling to site for minor data gathering. However, the most important benefit is not financial, the safety of customers is invaluable.
How relevant is this as an example that might be followed by other organisations?
Orbit's achievements in this project are less of a product and more of a framework for how BIM concepts and workflows can be re-interpreted to an existing residential building case study. Throughout the whole course of this project and beyond, it collaborated with HACT which is developing UK Housing data standards. Orbit regularly participates in collaborative workshops focused on the information requirements required by housing associations to enable a smarter digital future. Additionally, its collaboration also involved specialist fire consultants, surveying firms and technology businesses which all benefited from this project by knowledge exchange and an outstanding portfolio piece of work. Through this project, a lot of lessons were learned and it was not uncommon to pursue a task based on its outcome opportunity rather than return on investment. Orbit can now establish a strong understanding of which services will be most suited to specific estates and scenarios in the future. For example, DSEAR assessments may not be a priority in blocks with no commercial units, specialist M&E surveys may not be a priority on recently built estates with accurate as-built records. More informed data can ensure investment is made in the right places with better planning for future investments so buildings do not deteriorate to levels that customers do not want and should not have to live with. This approach can support changes to buildings and estates that create communities where people want to live and spend their time. By utilising BIM and the UK data standards, Orbit is following a uniform language that, if adopted by housing providers, will not only help support increased data knowledge but will enhance economic value through common values and goals with supply chains, helping to drive costs down in long term. Orbit is confident that with the right amount of time, effort and budget this project could be replicated by other housing associations who will soon have to evidence their "Golden Thread of Information". At the same time, due to the nature of this case study, internal culture and unique community living on the estate, Orbit believes there is a novelty and strong value in the work undertaken. Its plan is to showcase this project to the housing sector to promote best practice, boost digital workflow implementation and inspire others to leverage digital workflows for improved customer safety, more effective built asset management, long-term responsive repair cost reduction and lower capital outlay due to efficient planned programmes.
Shortlisted schemes
Qualis Management
Project and what is innovative?
Qualis was set up in 2020 by Epping Forest District Council (EFDC) to provide property services, asset management and regeneration. Qualis Management (QM) is a local authority trading company (LATCo) and a wholly owned subsidiary. The partnership will deliver a 6-year transformation plan including: insourcing / local employment, generating £1.7m of profit back to the Council, £0.5m of up-front savings and additional revenue opportunities through external generated work. Its vision is to provide high quality services and to keep the Epping pound in Epping. The repairs and voids service went live in September 2020 against the challenging backdrop of Covid. There have been several significant innovations as part of the project:
 Materials – in partnership with Buildbase they have utilised "Pods" which are fully stocked mini stores in shipping containers, positioned around the district to supplement their van stock. This approach has tangibly increased productivity and reduced associated carbon emissions.
Power BI – its real time cloud-based reporting is utilised by the team to understand performance on an individual basis, including productivity, CSAT, no access rates.
Electric Vehicles – the forward-thinking fleet strategy outlines the transformation to EVs over the next 4 years, with trials currently taking place within the service.
 Total mobile – utilisation of sector leading cloud-based software Connect. Showcased their approach to voids management with the Connect User Group.
Amazon Connect – cutting-edge call centre solution, includes call back feature, artificial intelligence which monitors tone of voice /customer sentiment and live webchat recently launched.
Measurable benefits to client, contractor, residents, and neighbourhood?
Qualis' mission is to "Provide high quality property services to customers and stakeholders, through creative solutions, commercial expertise and partnerships." As a Start-up Business, it has made significant progress, launching the next phase of its ambitious business plan in 2022, which included gas 3-star service, electrical testing and planned work streams. In collaboration with EFDC, QM has provided strong performance through what have been challenging market conditions. Its KPIs have been benchmarked recently, showing a strong performance. QM provides excellent service to customers and shareholder. Its end of year performance is summarised below:
Customer Satisfaction with repairs and gas breakdowns - 93%
 First time fix - 86%
Productivity - 3.7 jobs/day
Average voids turn around - 21 days
Its performance has moved from strength to strength over the last two years, productivity increasing from 2 jobs/day to 3.7, using technology and performance tracking. The use of league tables for operative performance has been key. QM has launched its performance framework with staff, based on objective setting and its values (behaviours) which were developed with staff. These are part of the transformation into a commercial business and includes:
 We work as one Team
 We take Personal Ownership
We are Customer Focused
We think Commercially.
This links to performance related pay and a bonus framework which rewards high levels of customer satisfaction and positive behaviours. The service QM delivers is second to none. Its customers have been delighted with the new service offer and quotes include:
"My electrician was Jack. The epitome of courtesy and professionalism. Excellent. Thank you."
"First and foremost, I'd want to thank you for sending someone to repair my boiler quickly. The ladies who assist on the phone line are incredibly understanding and helpful. Chris- the operative, was kind and professional, he actively listened to my concerns and explained what had happened with my boiler, as well as checking all of my radiators. His give me advice on how I could save energy, which is really necessary nowadays. I am really pleased with your services. Thank you once more for your time, outstanding service."
"Well impressed actually already posted on my Facebook page how impressed I was 10 out of 10"
Part of its value add is developing opportunities in the local neighbourhood, working closely with local colleges and schools. This has included the offer of career advice and mock interviews to young people and work placements for T-Level courses. In collaboration (with local education providers) it has developed four apprenticeship opportunities in the local community. Stanley Richards one of its new apprentices says, "I am really enjoying my apprenticeship and learning new skills with Terry." Due to new work streams and expansion of its business, QM has employed 20 local people into the organisation. Developing its people is of paramount importance, it has introduced a comprehensive online training programme alongside more traditional classroom-based health and safety training.
Financial costs and measurable cashable benefits?
Qualis' vision is "to be the leading local authority trading company in Essex. Creating value through strong financial returns and partnerships." It has achieved great things in a short space of time, growing its business from £8m to £12m turnover over the last 2 years. Over the course of its dynamic 6-year business plan, it will generate £1.7m of profit in QM which will go back to its shareholder EFDC. To date it has achieved a profit of £264k. Due to its Teckal status, it is able to seek external work opportunities up to the value of 20% of its turnover. Ideas include delivery of energy efficiency measures on local residents' homes, partnerships with other LATCo, further reducing costs and estate agency opportunities. It has recently taken over the full management of a private rent block in Loughton. Through systems and process reviews it has reduced its operating costs. A recent benchmarking exercise demonstrated that it was offering good value for money on repairs at £420 per property, compared to an average of £422 in the sector. AM has generated £0.5m of savings against historic prices that the council was paying external contractors. These savings were generated on electrical testing, gas 3-star service and planned maintenance works streams. This will directly benefit tenants in EFDC homes as the savings allow EFDC do more for less.
Relevance as an example that might be followed by other organisations?
Qualis recognises there are circa 300 local authorities in England who are all operating in challenging conditions with a rising cost base and diminishing funding. Strategically many local authorities are joining forces as part of unitary authorities. There are tangible opportunities to transform services and work in partnership with nearby local authorities. This includes service models or corporate back-office functions. As a limited company Qualis has been able to obtain private sector expertise and experience from people who might not have been attracted directly to a local authority. This has allowed it to harness experience from a wide range of property backgrounds. The other benefit is that this has allowed it to be more agile and nimble in its decision making than possible in a local authority environment. A key part of its success has been attracting the right skills to its Board of Directors, whose composition has been key to ensure it gets the right balance of private sector expertise and appointed Councillors. What makes Qualis different is that the independent Non-Execs are in the majority. The Council retains ultimate control through the shareholder agreement and reserved matters. This has been key in operating with a commercial focus, to drive the business forward at pace. It has been noted by some of the more established LATCos, who are looking to follow suit. Being a private limited company, it has been able to be more flexible with its employment terms and conditions. Many LATCos still employ on Councils' terms and conditions. QM has developed a strong package to compete in the commercial market to include performance related pay, important in driving a commercially focused business, attracting staff and being competitive in the external market while reducing overhead costs. As a wholly owned subsidiary the Council maintains overall control. It benefits from owning a commercial business and associated profit return, on an open book basis. It has scrutiny over the operational performance and service levels. The transfer of services via a self-delivery model will provide comprehensive service capability in the property maintenance market. In time this will create additional revenue opportunities and externally generated income. EFDC have benefited from strong performance and increased customer satisfaction. Complaints are low with 93% satisfaction with the service provided. Over time the business will generate additional income from the external market, which will be extremely valuable in these challenging times.
Octavia Housing & Chirpy Heat
Project and what is innovative?
Octavia used "Heat Manager" from Chirpy Heat, a unique virtual heat manager for housing providers with heat networks. Typically, social landlords have up to 10% of their portfolio on a heat network which can be complex to manage and require extensive management input. Heat Manager tackles this by bringing together the full range of data available on client heat networks, and delivers on going monitoring and data analysis that delivers the actions needed to deliver low cost, low carbon, and reliable heat networks. The Heat Manager frees up management and team time to focus on delivering the bigger, long-term strategy. Heat networks are traditionally data-rich but data without action is a data gap. Heat Manager was designed in partnership with Innovate UK and Octavia Housing, going from a pilot project to being delivered on 18 schemes across five housing providers. It is delivering real savings for landlords, customers and in carbon emissions. As well action to improve networks, Heat Manager also provides the following information:
Heat network performance: highlighting system inefficiencies and identifying potential issues early, allowing repairs and maintenance to be carried out proactively, before major unplanned outages or component failures.
High and low users: utilising existing heat network data to identify potentially vulnerable residents so that proactive communications/ interventions can be put in place.
Meter and billing: monitoring to ensure metering and billing providers are delivering on their contractual agreements, compliance, and customer service.
Measurable benefits to client, contractor, residents, and neighbourhood?
Octavia understands Heat networks can be complex to manage, with many being inefficient, causing higher costs to both the housing provider and to residents. Heat Manager uses live data to identify and remedy issues with operations and maintenance causing inefficiencies. On a 115-unit scheme, Octavia saved £7,338 (22%) in a year (£64/ per customer) on energy costs (electricity and gas). It also projected a management time saving of £10,500, bringing the total saving to £17,838/year from just one scheme. Across Octavia's portfolio, Heat Manager could save its customers a total of £36,500/year a major saving for low-income households. Taking into consideration massive energy price increases, this has the potential to increase savings above £150,000/year. Optimising networks through Heat Manager has the potential to save £57m in energy costs for the sector. Chirpy Heat builds long-lasting client relationships with housing providers through delivering on-going cost and carbon savings. It encourages clients to challenge it to deliver savings and create a client-focused approach to ensure this relationship is maintained. A wider benefit to the sector is building unique insights and benchmarks on heat networks, their issues, and solutions. These also help shape policy and regulation with the housing sector, BEIS and Ofgem. Heat Manager has a very clear focus on residents' benefits. Its ongoing monitoring and analysis identify a range of issues that impact on heat network customers:
Energy consumption analysis identifying those customers who may need help.
Scheme efficiency to improve efficiency and reducing heat and hot water costs.
Identifying scheme reliability by highlighting issues before call outs are required, reducing capital costs for repairs. The more efficient the scheme, the less likely components and equipment will deteriorate as quickly.
Chirpy Heat has provided support and advice for customers directly, as well as creating a suite of insights, communication tools and advice for housing providers that they can provide to their customers on an ongoing basis. The ongoing monitoring of data and performance allows heat network management to shift from reactive to proactive: identifying faults earlier to avoid unplanned outages for residents and reduce frustration and disruption. Full heat network regulation was announced in the Queen's speech in 2022 and was introduced in the Energy Security Bill, with Ofgem confirmed as the regulator. Housing providers are going to be moving very quickly from "accidental" to fully regulated energy suppliers. This will require them to report on their schemes, their management, and their performance on a whole range of issues. Without full visibility of their heat network schemes, housing providers will not be able to report and will not be compliant. Heat Manager is one part of helping to address and to ensure that heat networks remain compliant, cost effective and focused on customers. Chirpy Heat is now working with clients to develop new Heat Manger services to include tariff setting, scheme optimisation, decarbonisation, and compliance.
Financial costs and measurable cashable benefits?
Octavia estimates for these 115 units:
250,000 kWh consumption savings in plant rooms per year
£30,500 savings in plant room energy bills per year
45,500 kg CO2e avoided through plant room energy savings per year
Reduced staff management time that equates to 0.3 FTE savings per annum.
As more schemes are added, the greater the time and cost saving. Heat Manager identifies schemes that are operating outside their design specification by using monitoring data and raising repairs to ensure component and equipment life cycles are optimised. With Octavia's Elizabeth House as an example, if data is not monitored and the life cycle of Heat Interface Units (HIUs) dropped one year, a budget of £172,500 would be required to replace HIUs a year sooner than required. Heat Manager helps to push required budgets into the future. Optimising system efficiency reduces the impact on resident heat tariffs. If scheme data is monitored and improvement measures implemented to improve system efficiency e.g., by 20%, it can reduce the average consumer's (based on 4,000 kWh/year) bill by £260/year.
Relevance as an example that might be followed by other organisations?
Octavia estimates there are at least 450,000 homes connected to heat networks in the UK with around half of those managed by Local Authorities and Housing Associations. As a key pillar of the UK Government's net zero pathway, this will rise to over 4 million customers by 2050 - 125,000 new properties per year. Typically, most housing providers have around 10% of their homes on heat networks. This will rise significantly in coming years. Heat networks in social housing are complex, interlinking between technical, financial, operational and customer service delivery creating several operational difficulties. These can be minimised through a strategic approach to management and operation. Such difficulties can be time consuming and expensive to manage if not supported by a well-developed supply chain. This has resulted in many schemes not delivering their potential for affordable, controllable, and low carbon heat for customers. This experience is shared across the sector and the challenging nature of heat networks has made it exceedingly difficult for housing providers to develop the management processes, policies, and procedures necessary to deliver the high-quality service normally expected for their customers. At the same time heat networks are an increasing compliance risk for housing providers. Already they must comply with the Heat Network (Metering and Billing) 2014 Regulations (amended 2020). The Energy Security Bill, laid before Parliament in July 2022, will introduce further regulation to bring heat networks in line with the gas and electricity markets. Secondary legislation and the regulatory framework will follow. Transition to full regulation is expected to begin in 2024/2025 and will increase the requirements on all heat network operators, including housing associations, regarding customer protection and reporting, with a particular focus on transparency, pricing and performance. The new regulations will make it more important than ever that housing providers pro-actively manage their heat networks to ensure the best possible outcomes for their customers. Heat networks are already a significant management challenge for most housing providers. With many more homes due to be connected to heat networks and full regulation rapidly approaching, this management challenge will increase exponentially in the next few years. Heat Manager from Chirpy Heat creates a cost-effective way to reduce that challenge, to free up resources, and to ensure that their costs and carbon impacts reduce whilst their efficiency and customer service increases.